WHAT WE DO
We develop stellar brands with effective nurturing strategies that drive target consumers to take action. We do so with proper due diligence of target audiences, critical data collecting, and analysis. We uncover potential inhibitors that may create barriers to conversion and retention. We then masterfully design memorable and emotionally engaging creative assets to guide how potential customers perceive your brand increasing engagement, driving brand loyalty, and promoting social brand evangelism.

OUR CREATIVE INITIATIVE
Our designs are seen by millions of viewers every day. For example, recently the Vektor Russian Vodka brand was wrapped on Bobby Labonte's #47 NASCAR as well as being showcased as a major sponsorship at the Phoenix International Raceway. The brand is currently displayed on the scoreboard of the US Airways Center where the Phoenix Suns NBA team plays viewed by millions of people on national broadcast television. Additionally, the LifeLock Identity Theft Protection brand is displayed across the chest of every team mate of the Phoenix Mercury WNBA basketball team, as a sponsorship at US Airways Center, and was showcased at the LifeLock 400 NASCAR Series Races.
Everyday over 400,000 sales associates globally sell products with our designs displayed on them for the world's largest health supplement company, Isagenix International, including identity, product packaging, and marketing collateral design.
Our strategic digital marketing assets leave impressions in a wide range of market channels deployed by companies such as Mobile Mini, Inc. (NASDAQ: MINI) with 100 locations in the U.S.A. and the U.K. as well as large franchise chains such as Retro Fitness Clubs with more than 130 health club locations nation wide.
Our children's product designs have been sold globally by major retailers including Target, Sam's, Costco, FAO Schwarz, Barne's and Noble, and Amazon.
Our website designs (more than 2000 and counting) have brought national acclaim including recognition by the International Academy of Digital Arts and Sciences at the 14th Annual Webby Awards.
Whether a new start-up, a new product launch, or a long established institution, our goal is to help you improve consumer brand perception to instill trust by connecting in the hearts and minds of potential customers. We do so utilizing brand association attributes like credibility, authority, kinship, social awareness, adversity understanding, barrier solutions, quality, style, and efficiency association. We then deploy a strategy to convert perceived trust to a consumer value proposition. We research your target audience. We gather data and analyze consumer perception, conversion, and engagement trends. We then employ our award-winning design talents to create graphic assets that deliver the right message to consumers triggering emotional connections that leave a lasting impression.
Watch our short Prcevr introduction video entitled 'Achieve Greatness' >
CREATIVE SERVICES

Identity Design
Brand Development
Web Design and Development
Publishing and Production
Advertising (digital/print)
Corporate/Creative Copywriting
Trade Show Displays/Collateral
Specialty Promotions
Product Conceptual/Prototyping
Mobile Apps and User Interface
Outdoor signage
Video and Motion Graphics
Vehicle Graphics
Photography
Illustration/Digital Renderings
Socia Media (design)
Wireframes and Screen shots
Print Design and Printing Services
Web Hosting/Site Maintenance
Customer Relationship Management
---

OUR MARKETING INITIATIVE

Through ongoing analysis of resulting metric data we learn who your clients truly are, how they react to the things we present, and assess what return on investment has been achieved. With proven data in hand we propel your brand initiatives forward, managing the process to build deeper brand loyalty.
MARKETING STRATEGY SERVICES

Brand Strategy
Data Collection and Analysis
User Persona Development
Message Clarity & Optimization
Search Engine Optimization
Press Release Writing
Social Media Deployment
Social Media Monitoring
Email Marketing
Media Buying/Management
Mood Boards
Content Marketing
---

OUR PROCESS
FloForward is a proprietary data-driven brand initiation and development process we use to successfully launch and drive brands into the marketplace to ensure the precise target audience is receiving the ideal message necessary to trigger the action our clients wish for them to take.  As a digital image is made up of millions of pixels, so too may the process of driving a brand be comprised of countless critical components, all of which must execute in unison to paint the big picture.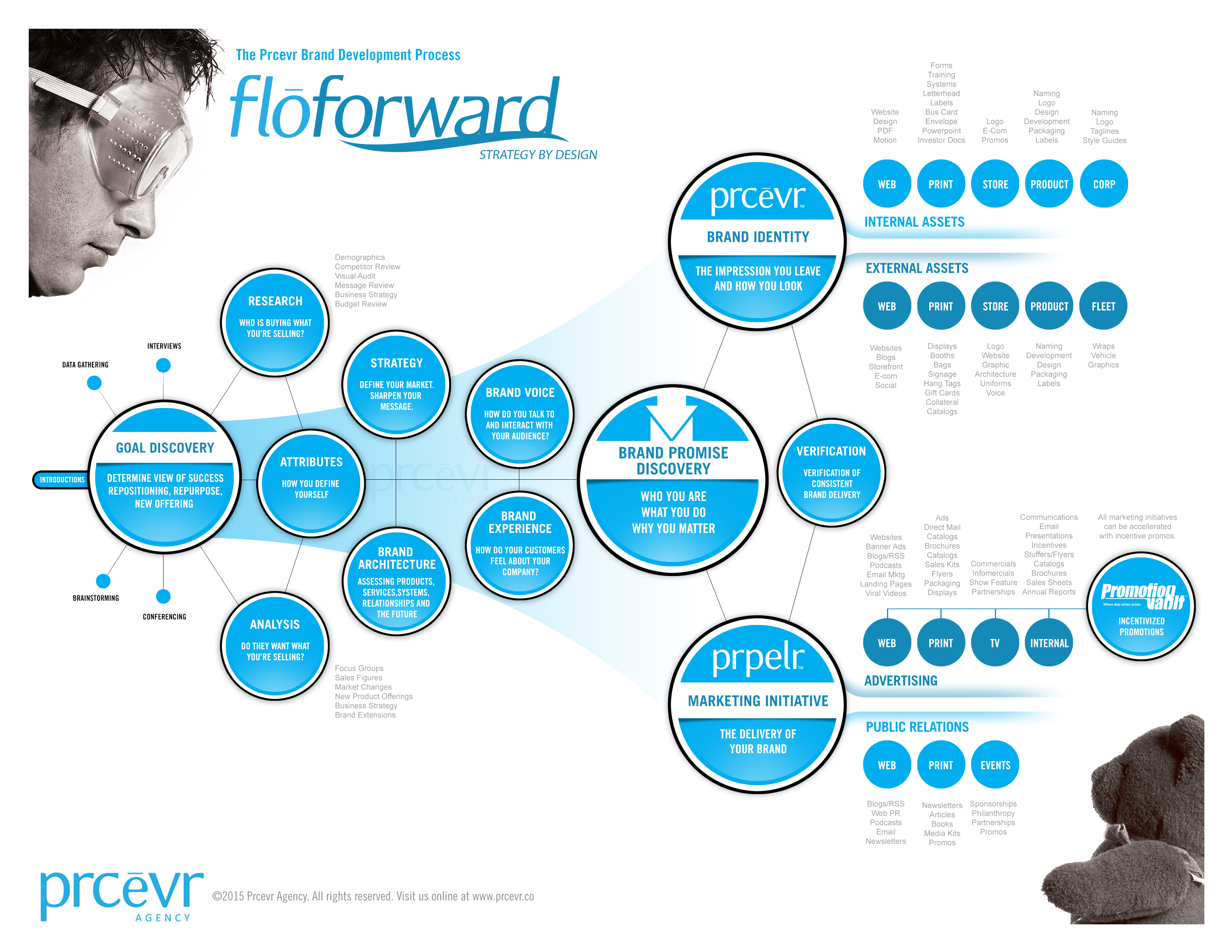 Floforward allows us to keep our creative and strategic marketing teams on course. We begin with market analysis and goal exploration to understand the who, why, how and what associated with the initiative. We establish a strategic first impression through identity designs that target consumers will embrace. We further our efforts by pairing the identity we create with brand styles and strategic marketing messages that answer questions in the mind and make meaningful connections in the heart of those who the message is targeted to reach. Touching consumers in such a powerful way ignites passion and creates evangelistic socialization among those who are touched, thereby creating self-driven return on investment engines. We believe engagement at such a deep level doesn't just make loyal customers, it makes loyal evangelists.
Take a look at our FloForward Brand Development process to get an idea of an ideal brand strategy execution.
We create, launch and manage your brand in a new digital world.
It's what we do.